Up
Braille
Dirt
Poem Error
Printed Error
Registration
Series $10 note
So, what's wrong with this bill?
What's this about "Circles"? See the side bar.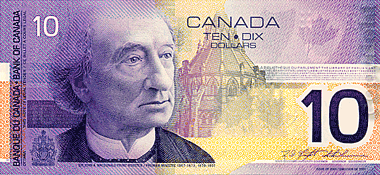 Front
Signatures:
Left - M.D. Knight
Right - G.G. Thiessen
Left - M.D. Knight
Right - D.A. Dodge
Portrait:
Sir John A. Macdonald was Canada's first prime minister and held office from 1867 to 1873 and again from 1878 to 1891. He was born on 11 January 1815 in Glasgow, Scotland and died on 6 June 1891.
Background:
The Library of Parliament, Ottawa, Ontario. The only remaining part of the original Parliament Buildings.
Back
Theme:
Remembrance & Peacekeeping - Veterans, children and Peacekeepers paying tribute
Poem:

Colonel John McCrae - In Flanders Fields
Official First Day of Issue: January 17th, 2001
Cat. No.
Signature
Printed
Changeovers
BC-63a
Knight - Thiessen

2000

FDT

- FDZ

BC-63b
Knight - Dodge

2001

FEA -

BC-63c
Jenkin - Dodge

200

4
Read more about the new "Canadian Journey Series"